Minnedosa is a small town in south-central Manitoba lying in the heart of Canada prairie pot-hole country. The surrounding countryside is no more or less populated with waterfowl than other towns such as Boissevain, Shoal Lake, Neepawa or the area known as the Interlake Region, north of Winnipeg. It is here in Minnedosa, though, where much of the early studies on canvasbacks and other water-fowl species were conducted by Canadian and American researchers.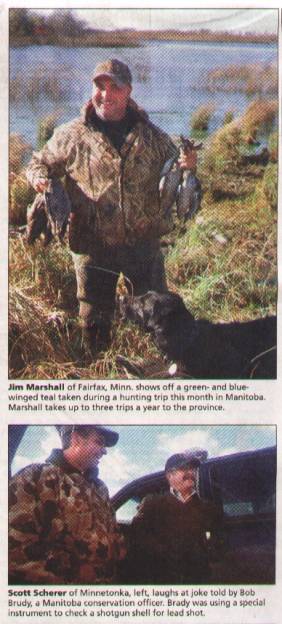 It's a landscape dotted with potholes, sloughs and-small-grain farms that seem like a throwback to the 1950s. Large corporate farming largely hasn't reached Manitoba, but as one farmer said, "We're getting fewer and farther between."
Because the region is rich with duck-producing wetlands, it draws waterfowlers like Marshall, who started coming here four years ago.
"The fanners are very friendly," said Marshall, who has become friends with landowners in the region. "You don't get turned down when you ask permission. A lot of people come to Canada and expect to find ducks within a five-mile radius of their motel. That's not quite the case. But if you get out and explore, knock on doors and get to know the countryside, there are plenty of ducks here."
John Plahn, 68, of Mound and Dick Guentzel, 68, of Austin, Minn., have been waterfowling in Saskatchewan and Manitoba together for four years. They said they enjoy the multitude of waterfowl, but also the friendliness of Canadians.
"We've had great associations with people up here," Plahn said. "You have to stop and visit and have a cup of coffee. I don't think we've ever been turned down.